The Philippine National Police (PNP) is the primary law enforcement agency in the Philippines. It is responsible for maintaining peace and order, preventing and solving crimes, and protecting the people and their property.
To fulfill its mandate, the PNP needs a competent and dedicated workforce. That's why the PNP conducts regular recruitment programs to attract qualified individuals who are willing to serve and protect the country.
The PNP Recruitment and Selection Service (RSS) is the main department tasked with handling new recruits for the Philippine National Police. It is responsible for managing the recruitment and selection process for various positions, including patrol officers, patrolwomen, technical and line officers for lateral entry, and more. Additionally, the PNP RSS operates under the supervision of the Directorate for Personnel and Records Management (DPRM).
PNP Qualifications
To ensure that you are qualified to become a Police Officer in the Philippines, it is important to check your eligibility. The following requirements must be met to be considered eligible:
Must be a Filipino citizen
Not less than 21 years old but not more than 30 years old
Bachelor's Degree Holder
Male Height Requirement: At least 1.57 meters (5.2feet) in height for males*
Female Height Requirement: At least 1.52 meters (5 feet) for females*
You must not have been dismissed from the AFP
You must be eligible to hold a government position

– RA No. 1080 (Bar and Board Examinations)
– PD No. 907 (CS eligibility to College Honor Graduates)
-RA 6506 (Criminologist)
The PNP recruitment process is open to both men and women who meet the minimum qualifications. These include being a Filipino citizen, at least 21 years old but not more than 30 years old, a bachelor's degree holder, and at least 1.57 meters (5.2 feet) in height for males and 1.52 meters (5 feet) for females. Applicants must also pass the physical, medical, and mental tests, as well as the background investigation and drug test.
PNP Recruitment Process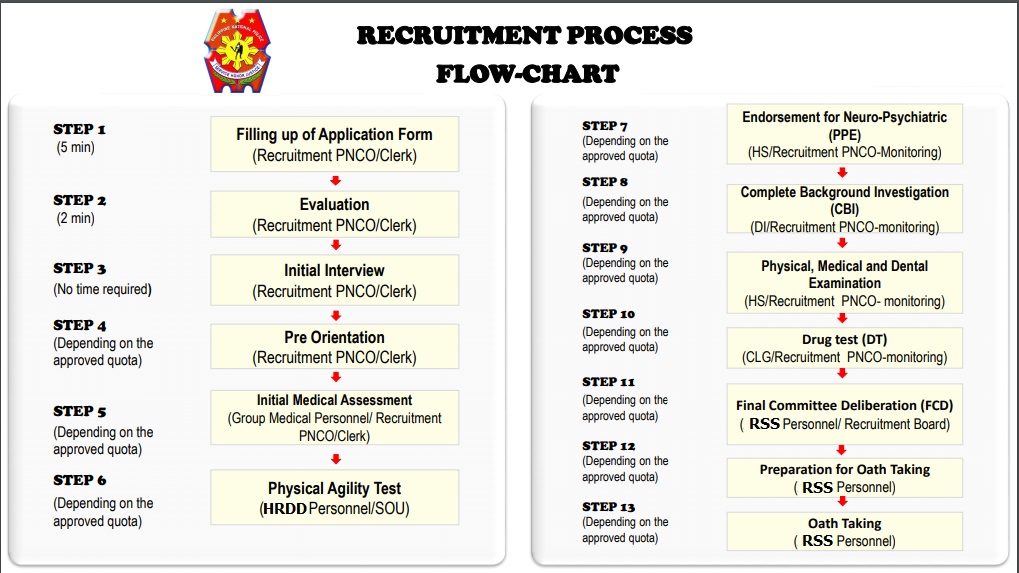 Online Application
The PNP recruitment process starts with an online application. Interested applicants can visit the PNP CORPS online portal (Comprehensive Online Recruitment Processing System) at this link: https://app.cores.prs.pnp.gov.ph/. Prepare the needed requirements stated below:
PNP Requirements
To begin the application process, here are the following documents needed in PDF format as initial requirements.
A. Notarized CSC and PNP Personal Data Sheet (handwritten)
B. PSA issued Birth Certificate of the Patrolman/Patrolwoman Applicant and Family Documents for Issuance of the Certificate of Declared Beneficiary.
B.1- Computerized Affidavit of Confirmation
B.2-PSA issued Advisory on Marriage of PNP Personnel
B.3- PSA issued Advisory on Marriage of Spouse
B.4- PSA issued Marriage Contract
B.5- PSA issued Birth Certificate of Dependents
B.6- PSA issued Certificate of Non-Marriage (CENOMAR)
B.7- Photocopy of valid ID with three (3) specimen signatures
*FOR MARRIED – B1, B2, B3, B4, B5, B6 & B7 *FOR SINGLE – B1, B5, B6 & B7
C. Affidavit of Undertaking Regarding Incontestability of Declared Birth Date
D. Educational Background

*College Diploma & Transcript of Record (TOR)
*General Weighted Average (GWA) of TOR
*Good Moral Character (from school last attended)

E. Eligibility (NAPOLCOM/CSC/PRC/PD No. 907)

*Report of Rating
*PRC shall also attach the Authenticated PRC License

F. CLEARANCES – Authenticated copies

*National Police Clearance
*Barangay
*Mayor ADHOC Committee Recommendation
*Prosecutor/Fiscal
*MTC
*RTC
NBI

G. Service Record for previous employment on the government service if any (Original).
H. * 1 pc Colored whole body picture (JPEG)

1 pc Bust-size (JPEG)
2 pcs 2×2 colored with name tag (JPEG) (use white background)

I. Photocopy of Valid ID
J. Tax Identification Number
K Height waiver, if any
Upon submitting your application on the PNP Cores website, an email will be sent to you containing instructions on the next steps to take, as well as your application QR Code. Please wait for these instructions on where to undergo the Recruitment and Selection Process (RSP).
Screening Proper
All recruits are required to undergo the Recruitment and Selection Process (RSP) to assess their physical fitness for the role of a Police Officer in the Philippines.
What to Wear and Bring to the PNP RSP?
Attire: White T-shirt, black shorts, and white rubber shoe
Identification: At least one valid ID
Documents: Printed copy of your QR Code and COVID Vaccination Card
Below is the list of health metrics that you will go through in this process:
A. BMI (Height and Weight): Between 18.5-26.5 BMI
B. Ishihara Test, Visual Acuity Test, Ear Nose Throat Exam (ENT)
C. Chest X-Ray PA view
D. Electrocardiogram (ECG)
E. Urinalysis and Drug Test
F. Blood Chemistry Examination
G. Snellen Vision Test
H. Color Perception Test
I. GPE or General Physical Exam
The physical agility test, which includes running, push-ups, sit-ups, and other exercises.
a. Sit-up: Male-35 (1 Minute), Female-25 (1 Minute)
b. Push-up: Male-35 (1 Minute) Female 25 (1 Minute)
C. 3Km Run: Male-19 Minutes, Female 21 Minutes
The RSS may inform you immediately if you have passed or failed the exam. If you pass, the next step is to take an oath and sign the necessary documents for your PNP appointment. The entry-level rank for non-commissioned officers (NCO) in the PNP is Patrolman/Patrolwoman.
Conclusion
In conclusion, the PNP recruitment process is a challenging but rewarding journey for those who want to serve and protect the people of the Philippines. The PNP offers a competitive salary, benefits, and opportunities for career advancement. If you have the passion, dedication, and courage to become a police officer, then the PNP recruitment program is the right path for you.