NBI clearance is a certificate issued by the National Bureau of Investigation (NBI) in the Philippines, which serves as proof of a person's identity and absence of any criminal record. It is required for various purposes such as employment, travel, and other legal transactions. In this article, we will discuss the NBI clearance requirements and the process of registering online in the Philippines.
NBI Clearance Requirements:
To apply for an NBI clearance, applicants must prepare the following requirements:
Valid ID: 2 valid government-issued IDs such as a driver's license, PRC License, UMID, Passport, Postal ID, Voter's ID, PSA authenticated birth certificateSolo Parent ID, Senior Citizen ID, or any other government-issued ID that has a photo and signature.
Barangay Certification and Oath of Undertaking (for First-Time Job Seekers Only)
Payment: Applicants must pay the NBI clearance fee, which costs P130 with an additional transaction fee of P25. Ultimately, the total cost of securing your NBI Clearance will amount to P155.
NBI Clearance Registration Online:
The online registration process for NBI clearance is simple and convenient. Follow the steps below: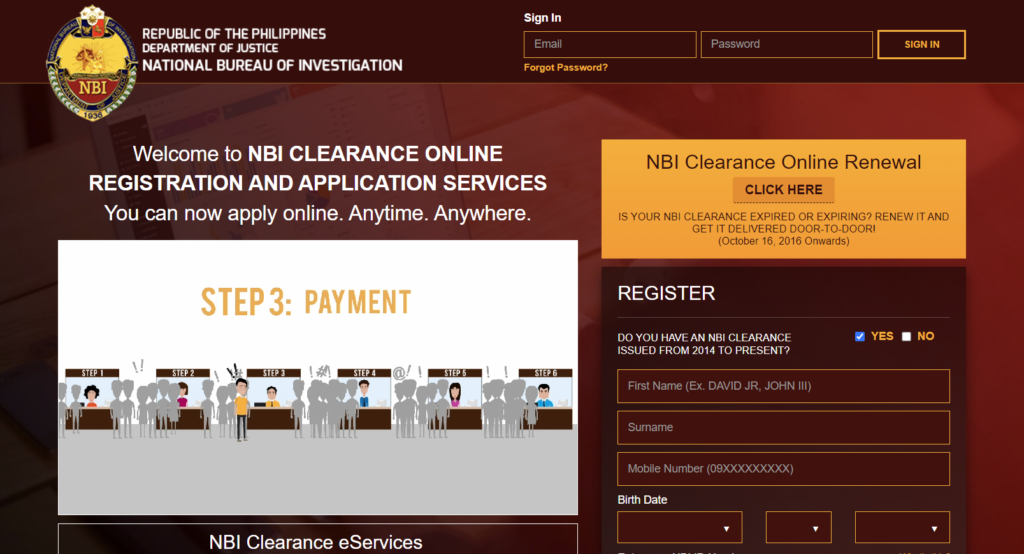 Visit the NBI clearance website at https://clearance.nbi.gov.ph/ and create an account.
Fill out the registration form. Check for Accuracy and Click Sign-up.
Enter the OTP that was sent to your mobile number and click Submit.
Log in to your account using the email address and password that you enter. Remember only one email address should be used for one user.
Fill out the NBI clearance application form, provide accurate and complete information, and then click Submit.
Click Apply for Clearance on the upper right side if you're using a laptop or the top of your screen if you're using a mobile.
Input the Valid ID you will bring on your appointment date including the ID Number.
Choose an NBI Branch and your schedule for your appointment. The appointment system is designed to avoid overcrowding and long waiting times.
Pay the NBI clearance fee online using the available payment options such as credit/debit cards, e-wallets, or over-the-counter payment channels.
On the scheduled appointment date, go to the NBI clearance center with your valid ID and other requirements stated above.
Have your biometric data (fingerprint and photo) taken at the NBI Clearance Center.
Wait for your NBI clearance certificate to be released. If there are no issues, you can get your NBI clearance certificate on the same day of your appointment.
Note: Make sure to jot down or capture a screenshot of your unique reference number. This reference number serves a crucial purpose as it is required when paying for the NBI clearance fee, and also serves as your entry ticket to the NBI clearance center. So, it is imperative that you keep this number safe and accessible when you head to the clearance center.
How to check the status of your Application?
Simply head over to the Transactions tab located in the menu, and with a single click, you'll be transported to a page displaying your unique reference number. Alongside this essential piece of information, you'll find a comprehensive breakdown of whether or not the payment for your application has been successfully processed. Stay informed and up-to-date with just a few simple clicks.
Can you change your appointment date?
When you're picking out your appointment date for the NBI clearance, it's super important to be careful with your choice. Once you pay that clearance fee, you're locked in – no changing or rescheduling allowed. So make sure you're good to go before you hit that confirm button.
But let's say you can't make it on the day of your appointment. No worries! The NBI gives you a 15-day grace period to swing by your chosen NBI clearance branch and get your application done. So don't stress too much, just keep in mind that the appointment date you choose is the one you'll be sticking with.
Conclusion:
In conclusion, obtaining an NBI clearance in the Philippines requires the submission of the necessary requirements and registration online. The online registration process is convenient and easy to follow, reducing waiting time and minimizing contact with others during the COVID-19 pandemic. By following the steps mentioned above, applicants can obtain their NBI clearance certificate quickly and hassle-free.